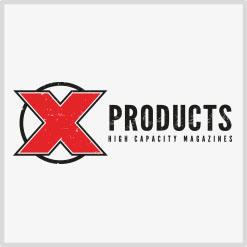 Best known for the creation of quality high capacity drum magazines and the Can Cannon, X Products is an industry leader in creativity, innovation and quality. At X Products we are dedicated to advancing a multitude of rifle platforms through cutting edge design and technology.
The X Products family of 50 round drum magazines are the most rugged, compact, and visually appealing high capacity magazines on the market. Our continued commitment to evolving the AR-15 platform paved the way for our full line of non-reciprocating side charging uppers and accessories.
Just as we believe in innovation through design, X Products also believes fun should also be at the core of recreational shooting. It was that belief that resulted in the creation of the Can Cannon family of products and accessories. Every product we manufacture is skillfully designed, machined and assembled by American hands.
X Products is proudly changing the landscape of 9MM, 5.56 and 7.62 rifle platforms and moving beyond the status quo.