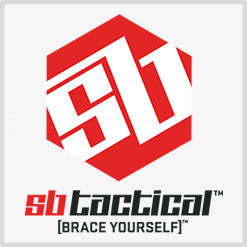 SB Tactical LLC was formed in January of 2013 by Alex Bosco and Grant Shaw. SB Tactical is an innovative company that conceptualizes, designs, develops and manufactures accessories for firearms. The initial product introduced to market was the SB15 Pistol Stabilizing Brace. A utility and design patent was issued for the Pistol Stabilizing Brace and BATFE approval was secured, positioning SB Tactical as the dominant market player for this type of accessory for years to come.
Since inception, SB Tactical has distributed product exclusively through partnerships with Sig Sauer for AR pistols and Century International Arms for AK pistols. In 2015, SB Tactical began directly selling the Pistol Stabilizing Brace family of products for multiple firearms platforms to the end user.
The market for Pistol Stabilizing Braces spans hundreds of different gun platforms across many firearms manufactures, from volume producers to custom fabricators. The entire Pistol Stabilizing Brace family of products are 100% U.S. manufactured.